Highlights from Fall 2018 - Spring 2019
Clubbed Thumb presents
PLANO

By Will Arbery
Directed by Taylor Reynolds
April 8th - May 11th
A return of Summerworks 2018's sold-out run! Tonight, and later, and earlier, three sisters (no, not those ones) are stricken with a series of strange plagues. Let's talk about family nightmares. I mean, uh, memories.
With: Crystal Finn, Susannah Flood, Miriam Silverman, Cesar J. Rosado, Ryan King, Brendan Dalton and Mary Shultz
OUTSTANDING DIRECTOR OF A PLAY
Taylor Reynolds
OUTSTANDING SOUND DESIGN IN A PLAY
Tyler Kieffer
Noche Flamenca presents
ENTRE TÚ y YO
(Between You and Me)
Soledad Barrio & Martín Santangelo
March 8th - 31st
The renowned company Noche Flamenca comes to the Connelly Theater with Entre T y Yo (Between You and Me), an evening-length program of duets, solos, and ensemble works exploring the constraints imposed and the possibilities afforded by human relationships.
In "La Ronde," inspired by Max Orphul's 1954 film, Martín Santangelo uses a series of duets to explore love, hate, jealousy, and death. Soledad Barrio's signature "Sole" exemplifies the catharsis at the heart of flamenco. Barrio is joined by some of Spain's most celebrated flamenco artists, including dancers Antonio Rodriguez, Marina Elana, and Jasiel Nahim; musicians Eugenio Iglesias, Salva de Maria, and David Rodriguez; and singers Manuel Gago, Emilio Florido, and Carmina Cortes.
About the Company
Under the direction of Martín Santangelo, the award-winning Noche Flamenca has become one of the world's most successful touring companies. Formed in 1993 by Santangelo and his Bessie award-winning wife, Soledad Barrio, the company performs regularly in New York City and tours worldwide. Hailed by critics for its transcendent and deeply emotional performances, Noche Flamenca is recognized as the most authentic flamenco touring company in the field today, expressing the rigorous, spell-binding aesthetic of one of the world's most complex and mysterious art forms. All aspects of flamenco dance, song, and music are interrelated and given equal weight creating a true communal spirit within the company: the very heart and soul of flamenco.
New York Theatre Workshop presents
MANDY PATINKIN IN CONCERT: DIARIES 2018

By Mandy Patinkin
with Adam Ben-David on piano
October 10th - 28th
Mandy Patinkin in Concert: Diaries 2018 is a marriage of some of Mandy's favorite Broadway and classic American tunes, along with selections from his newest recordings, Mandy Patinkin Diary January 2018 and Mandy Patinkin Diary April/May 2018 (Nonesuch).

"Mandy Patinkin is in the business of showstopping," raves The New Yorker, and that's exactly what he does in this powerful, passionate evening of popular song. From Randy Newman to Stephen Sondheim, from Rufus Wainwright to Harry Chapin, Mandy Patinkin takes you on a musical journey you'll never forget.
Geraldine Hughes, in association with Firefly Theater & Films, presents
BELFAST BLUES

Written & Performed by Geraldine Hughes
Directed by Carole Kane
October 22nd & 23rd
One wee girl's story about family, war, Jesus, and Hollywood, Geraldine Hughes' (McGonnagall in Harry Potter and the Cursed Child on Broadway)' one-woman show is a tapestry of true stories told from Hughes' perspective as a little girl coming of age in the war-torn Belfast of the 1980s. After award-winning runs in Los Angeles, West Belfast, Belfast, Chicago, Off-West End London, and Off-Broadway, the Belfast Blues plays the Connelly for two shows only.
Highlights from Fall 2017 - Summer 2018
Ars Nova, piece by piece productions & Z Space present
THE LUCKY ONES
A world premiere new musical
Book by The Bengsons & Sarah Gancher
Music & Lyrics by The Bengsons
Choreographed by Sonya Tayeh
Directed by Anne Kauffman
March 19 - April 28, 2018
Indie-music duo The Bengsons spin a memory-tale of teenaged passion, ideals lived to the limits, family shattered and faith lost — all in hope of finding a way home again. Through soulful electro-folk songs, this driving, semi-autobiographical story grabs joy and grief with the same hand and holds them tightly, in a radical affirmation of being alive.
See the next world premiere musical commissioned and developed by "one of the most adventurous off-broadway companies" (NY Times) Ars Nova (KPOP, Natasha, Pierre & The Great Comet of 1812), and created by the team behind the "luminous" (NY Times) Hundred Days: musical duo The Bengsons, Sarah Gancher, Emmy-nominee Sonya Tayeh, and Obie Award-winning Anne Kaufman.
LUCILLE LORTEL NOMINATIONS:
Outstanding Choreographer – Sonya Tayeh
Outstanding Actor in a Musical – Damon Daunno
Outstanding Featured Actress in a Musical – Maryann Plunkett
Outstanding Featured Actress in a Musical – Myra Lucretia Tayl
Outstanding Featured Actress in a Musical – Adina Verson
DRAMA DESK NOMINATIONS:
Outstanding Featured Actor – Damon Daunno
Outstanding Music – The Bengsons
Outstanding Lighting Design for a Musical – Amit Chandrashaker
Highlights from Fall 2016 - Summer 2017
Sinking Ship Productions presents
A HUNGER ARTIST

Based on the story by Franz Kafka
Created by:
Performer Jonathan Levin
Playwright Josh Luxenberg
Director Joshua William Gelb
June 1 - 27, 2017 & January 10 - 16, 2018
"Are you still starving? When are you going to stop…?"
A man sits alone in a cage, starving himself for your entertainment. Sinking Ship Productions' acclaimed, visually-striking adaptation of the Franz Kafka short story uses physical theater, Victorian miniatures, puppetry, and a set of simple props to support a powerhouse solo performance.
Once cheered by thousands, the Hunger Artist is now forgotten by everyone except his one-time manager. What begins as a simple nostalgic story transforms into a startlingly inventive, darkly comic trip into the nature of memory, art, performance, and spectatorship, as told by the only person who remembers an artist whose act was simply... to hunger.
Winner of Summerhall's Lustrum Award for Excellence at the Edinburgh Fringe, and nominated for two Drama Desk Awards (Outstanding Solo Performance, and Outstanding Puppet Design).
OUTSTANDING SOLO PERFORMANCE
Jonathan Levin
OUTSTANDING PUPPET DESIGN
Charlie Kanev, Sarah Nolen, Jonathan Levin
The Tank presents
STREEPSHOW!

By Jay Stull
Directed by Andrew Neisler
June 1 - June 24
As part of the Save & Print series
This is the true story of nine characters, once played by Meryl Streep, picked to live in a house, and have their lives taped to find out what happens when people stop being, oh I don't know, direct and start getting, well, breathy. The characters in STREEPSHOW! have no knowledge of the actress Meryl Streep and think of themselves as real people with uncannily similar, tragic biographies. But when the winner of STREEPSHOW! is promised the opportunity to rewrite her tragedy, it's every Streep for her exquisitely poised self. This is theater in reality TV drag, actors in Meryl drag, and America's pop music canon in cabaret drag.
Soho Rep. presents
Jomama Jones in
DUAT
October 11 - November 6, 2016
WORLD PREMIERE
By Daniel Alexander Jones
Directed by Will Davis
With new music by Samora Pinderhughes, Bobby Halvorson, and Jomama Jones
In the darkest hour of the night, surrender your heart to call the light.
Two halves of a soul hunt through a hall of records.
A librarian breaks the seal of a mysterious archive.
A teacher and her class prepare the pageant to end all pageants.
Duat conjures a spell of disintegration, transformation and regeneration through an incandescent performance in three parts. A little bit vaudeville, a little bit rock and soul.
Featuring Jacques Colimon, Tenzin Gund-Morrow, Toussaint Jeanlouis, Daniel Alexander Jones, Jomama Jones, Stacey Karen Robinson, Kaneza Schaal and more
Highlights from Fall 2015 - Spring 2016
I'LL SAY SHE IS
The Lost Marx Brothers Musical
May 28 - July 3, 2016
Original book and lyrics by Will B. Johnstone
Adapted and expanded by Noah Diamond
Music by Tom Johnstone
Musical direction by Sabrina Chap
Choreography by Shea Sullivan
Directed by Amanda Sisk
In 1924, I'll Say She Is established the Marx Brothers as the darlings of the New York smart set and the preeminent jesters of the Jazz Age. But unlike their other Broadway hits, it was never filmed or revived. It was lost to history, until writer, performer, and Groucho Marxist Noah Diamond researched, restored, and adapted the work for its historic return to the stage. It was a smash hit of the 2014 New York International Fringe Festival. In 2016, I'll Say She Is comes to the Connelly Theater for its first fully-realized production since the original closed ninety years ago.
Bindlestiff Family Cirkus presents
A CARDBOARD & DUCT TAPE SPECTACULAR
WORLD PREMIERE
May 5 - 8, 2016
Bindlestiff Family Cirkus presents a return to the basics in its latest production, A Cardboard and Duct Tape Spectacular. Bindlestiff's cast of acrobats, aerialists, jugglers, sideshow marvels, musicians, and vaudevillians tackle the challenge of arriving at a theater to present a show... but finding their trunks have been delivered empty. The solution to this dilemma proves as simple as Cardboard and Duct Tape—like a child playing with the box that once contained a fancy toy, Bindlestiff's cast finds delight and shares the joy with the audience. Stripping away the ultra-mediated modern experience of entertainment, Bindlestiff celebrates a DIY tradition made with the raw elements of passion, play, and circus skill.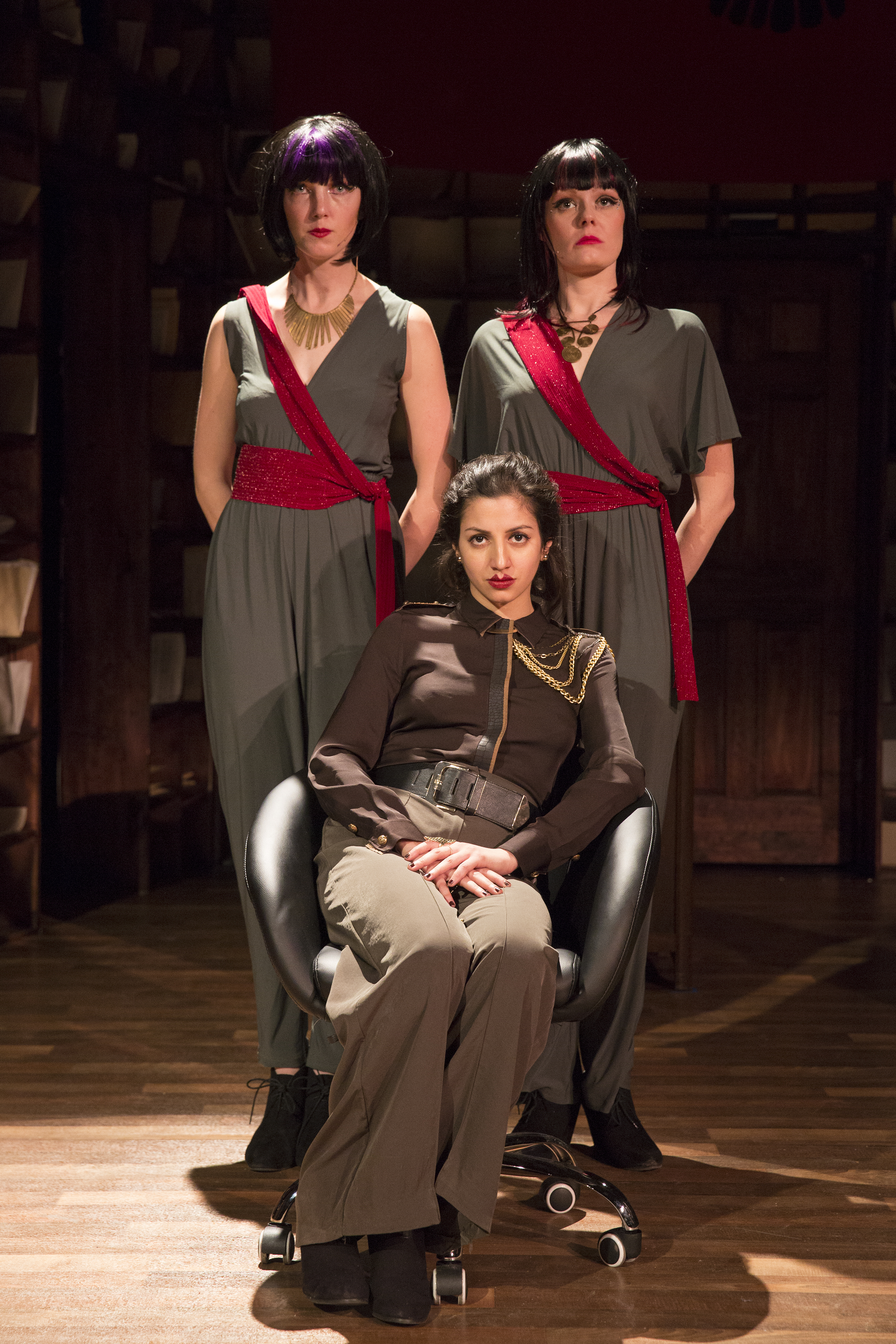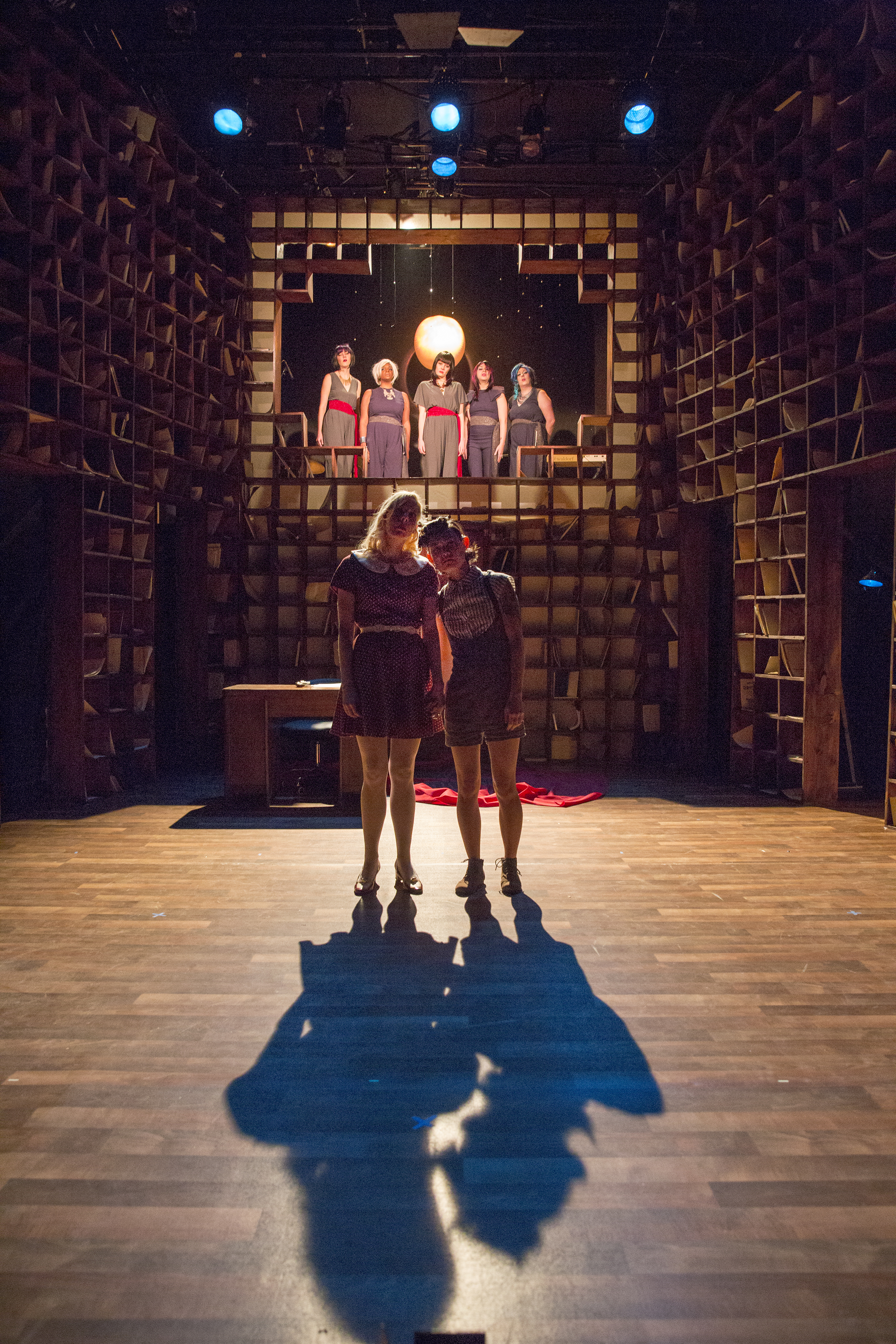 The Tank presents
The Offending Gesture
by Mac Wellman
Directed by Meghan Finn
Original Music composed by Alaina Ferris
WORLD PREMIERE
Part of The Tank's Flint & Tinder series
January 5 - 24, 2016
The Offending Gesture is a hilarious and poetic indictment of American foreign policy in Iraq, told through the true story of Hitler and his dog, Blondie. Acclaimed playwright Wellman takes as his subject a political incident that occurred in 1941 just before Germany invaded the Soviet Union, when Tor Borg, a Finnish businessman infamously taught his own dog Jackie to do the Nazi Party Salute in response to the command, "Heil Hitler."
A SHOW FOR CHRISTMAS
Written & Performed by Daniel Kitson
NEW YORK PREMIERE
December 8 - 18, 2015
Daniel says:
Last year, I wrote and performed a Christmas Show called – quite brilliantly – A Show For Christmas. I didn't know what it was going to be when I agreed to do it but I ended up really liking how it turned out and having only booked a five night run at the Battersea Arts Centre in the now defunct Grand Hall, I was always keen to do it again this year and So, as you may have guessed by now, I am bringing it to New York this Christmas.

The show itself is a pretty simple storytelling affair that is, if you'll forgive me for saying so, rather lovely and deals, amongst other things, with the traditional seasonal concerns of loneliness, a brief scuffle in a newsagents, mobile phones, magic, the past and a long journey in a mid sized motorhome.

I mean. It's long been my vibe to charmingly undersell things, as you doubtless know, but I reread it last week to see if I needed to change anything and I actually REALLY enjoyed it.

I think it's really good.

So. There you go.
2016 Lucille Lortel Award Winner: Outstanding Musical
Soho Rep. & Ars Nova present
FUTURITY
NEW YORK PREMIERE
October 6 - November 22, 2015
Music by César Alvarez with The Lisps
Lyrics & Book by César Alvarez
Directed by Sarah Benson
in association with Carole Shorenstein Hays
Two people try to imagine their way out of impossible circumstances in FUTURITY – an avant-Americana musical by indie band The Lisps. Julian is a Civil War soldier dreaming of a technological utopia. Ada is a mathematical genius thousands of miles away. Together, they're going to invent a machine to end one of the darkest periods in our history. An electrifying concert-story featuring an army of musicians.
Highlights from 2014 - 15
Target Margin Theater presents
COMPOSITION…MASTER-PIECES…IDENTITY
May 25 - June 28, 2015
A new work conceived and performed by Obie Award-winner and TMT Associated Artist David Greenspan, Composition...Master-Pieces...Identity brings to life two "lectures" and a "play" by Gertrude Stein.
Stein lab: When you see this remember me
May 27 - June 27, 2015
Target Margin Theater's season-long exploration of all things Stein culminates at the Connelly Theater with The TMT Stein Lab. Artists include Jessica Brater, John Del Gaudio, Jesse Freedman, Sarah Lurie, Handan Ozbilgin, Natalie Robin, Noah Scalin and Patrick Scheid.
Tweed TheaterWorks presents
Lypsinka: the trilogy
November 5, 2014 - January 3, 2015
Lypsinka! The Boxed Set
Directed by Kevin Malony
Not seen in New York since 2001, this full-length 'traditional Lypsinka' concert show is the award-winning revue of Lyp's greatest bits that has toured the world, flabbergasting audiences from Los Angeles to Sydney to Glasgow. Using a soundtrack created from films, musicals, and concert recordings, the supreme archivist of irony showcases the modern woman's challenge of being over-blessed with femininity and celebrity.
The Passion of the Crawford
Directed by Kevin Malony
The Lyp's tour de force embodiment of towering screen queen Joan Crawford—featuring a re-enactment of Crawford's onstage interview from 1973—is a fantasia of fame and insecurity, grandness and identity. Last presented in New York in 2005, this tribute to Hollywood and ego crisis has since been mounted from San Francisco to Sarasota. Featuring Scott Wittman and Steve Cuiffo as the Interviewer.
Show Trash
Directed by Barry Kleinbort
An autobiographical multi-media pastiche, starring Epperson - unmasked and in street clothes - tinkling the ivories and spinning yarns of Mississippi, Manhattan, and Hollywood. Now making its New York City theatrical premiere, the anecdotal SHOW TRASH reveals the man behind the madness.